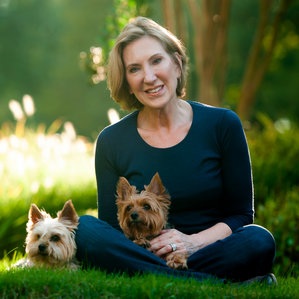 Carly Fiorina | Founder & CHAIRMAN
Carly Fiorina is a true leader and a seasoned problem‐solver. Her mission is to inspire, equip and connect individuals and teams to seize opportunities, face challenges, and accelerate impact in their communities. She knows that everyone has more potential than they realize, that those closest to the problem understand the problem best, and that leading to unlock the potential in others and actually solve problems can result in both progress and joy.
Carly shares her leadership experience and approach to problem-solving in a variety of ways. In addition to her regular speeches to students, businesses and non-profits, she is the founder and Chairman of Unlocking Potential, a non-profit organization that invests in human potential by supporting local leaders who are solving problems in their communities. She is also the host of By Example, an podcast that features leaders from various sectors and communities.
CINDY HALLBERLIN | BOARD MEMBER
Cindy Hallberlin has served as the President and CEO of Good360 - where she was responsible for the procurement and distribution of more than $300 million worth of products to support nearly 50,000 non-profits – as well as the Chief Operating Officer of the American Diabetes Association and Chief Operating Officer at Easter Seals serving DC, MD, and VA. She. Prior to that, she worked as a trial attorney for the US Postal Service, Counsel at Sidley Austin LLP and the Chief Ethics and Compliance Officer with U.S. Foodservice. Cindy holds a JD from Antioch School of Law and a BS in Social Work from the University of North Carolina at Greensboro.
FRED THOMPSON |
BOARD MEMBER
Fred Thompson currently serves as the Chief Administrative Officer at Thompson Hospitality. Fred has nearly 20 years experience in purchasing and procurement, having served as small and minority business opportunities coordinator for the city of Newport News, Virginia. In addition, Fred has served on a number of academic and non-profit boards – including the University of Mary Washington, James Madison University, the Global Good Fund, the Jamestown-Yorktown Foundation, and the Virginia Chamber of Commerce. He earned a BA in Classical Studies from Hampden-Sydney College and a Master's Degree in Public Administration from the University of Virginia.
CASEY ENDERS |
CHIEF EXECUTIVE OFFICER
Before joining Unlocking Potential, Casey Enders served as the Chief of Staff to philanthropist and financier Raymond G. Chambers, managing and providing strategic guidance on a portfolio of over 30 for-profit and non-profit projects. She also worked as the Policy Director on Carly Fiorina's 2016 presidential campaign, for which she led research, policy development, and debate prep. Casey started her career as a consultant at McKinsey & Company, where she advised executives at Fortune 500 companies and international non-profits on strategic and operational issues. She earned a B.A. in Government and Foreign Affairs with High Honors from the University of Virginia.
JEFFREY RICHARDSON |
MANAGING DIRECTOR
Before joining Unlocking Potential, Jeffrey Richardson served as the Principal of Enspired Muse Coaching and Management. In his previous capacity as a senior advisor to District of Columbia Mayor Vincent C. Gray, Jeffrey served as Chief Service Officer and Executive Director of Serve DC – The Mayor's Office on Volunteerism and DC Commission for National and Community Service. Jeffrey is an AmeriCorps Alum and graduate of the University of North Carolina at Chapel Hill and the Howard University School of Social Work. Having launched his career in academia, Jeffrey spent seven years as a researcher and program coordinator at Howard University's DC-Baltimore Center on Child Health Disparities.
SAMANTHA ZALESKI |
DIRECTOR OF SPECIAL PROJECTS
Before joining Unlocking Potential, Samantha Zaleski served as the Research Staff Director at the public opinion and analytics firm TargetPoint Consulting. In that role she provided advising on strategic use of data to independent organizations on the right, non-profits, and associations. In 2018, Sam was named to Campaigns & Elections list of Rising Stars in part for her efforts working to help position progressive issues with more conservative audiences. Sam got her professional start in Michigan, where she grew up, working on political campaigns. She is a graduate of Michigan State University's James Madison College with a degree in Social Relations and Policy. Sam lives in Alexandria, Virginia with her husband Mike and their dog Huck.
VIRGINIA HINZMAN |
Program associate
As a program associate Virginia coordinates the delivery of our program and client work, and assists with management of the Pro Bono Network of coaches and facilitators. Virginia started at UP as an intern focusing on market research and communications content planning for UP programs and branding. She joined Unlocking Potential after searching for non-profits that shared her values and ideals on leadership. Virginia graduated this year, with honors, from Lenoir-Rhyne with a BA in Political Science and was active in her student community including serving as President of the Gamma Chi chapter of Kappa Delta.